Integrated Arts
Introduction
An enviroment is created for children to try different art forms, including Drama, Dance, Music and Visual Arts. Through different art activites, they can develop their love and interest for arts. Performance opportunities are also provided inside and outside school for their experience.
Aims
Provide opportunities for students to get a taste of different art forms and explore their interest without pressure.

Stimulate students' creativity and imagination, offer them with tools and skills to express themselves in various art form.

Develop students' art appreciation ability, and to help them understand different cultures through arts.

Enhance students' generic skills.
Curriculum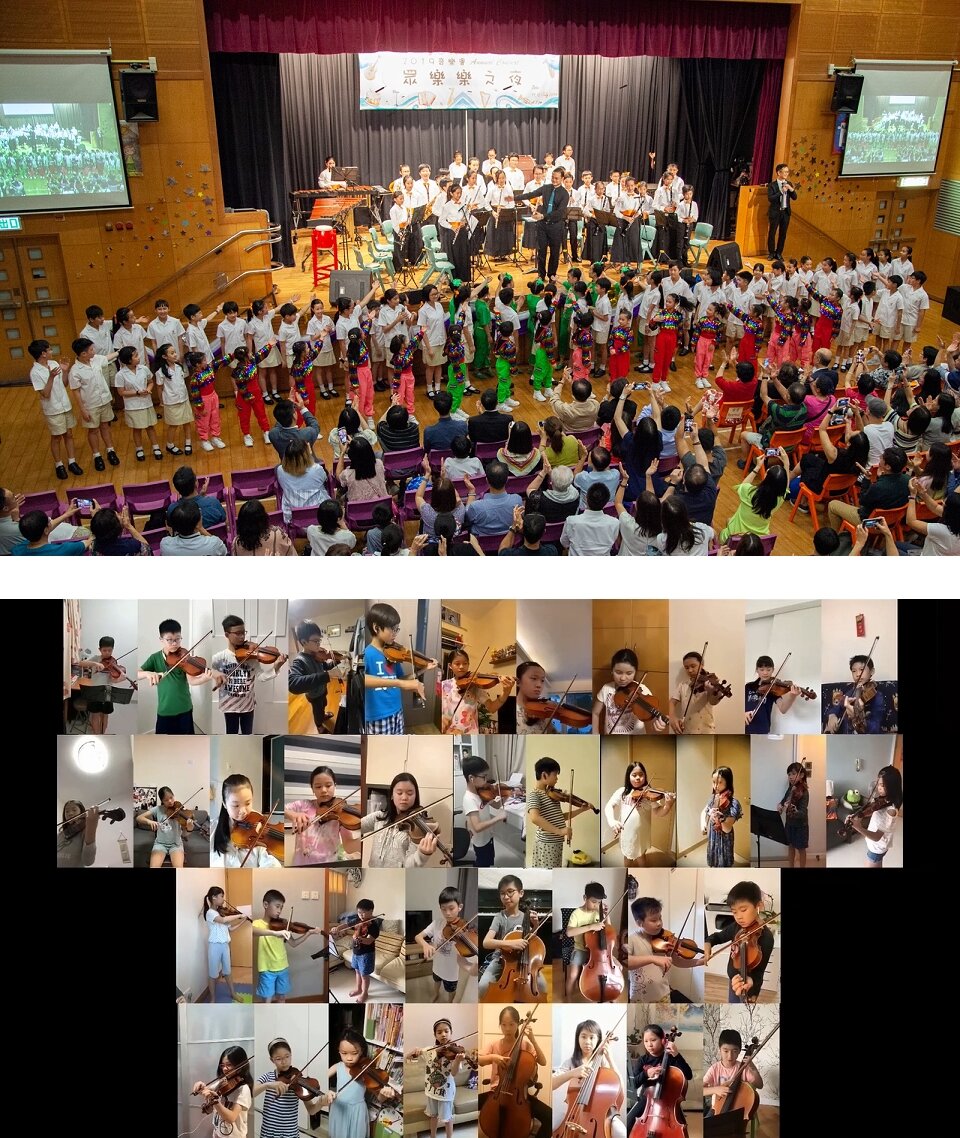 Music
Introduction
Music journey should take place in a children's orientated and children-led environment, guided by their teacher. In our classroom, teachers provide a rich musical environment for students to explore music, and stimulate their interest by questioning and feedback. Also, students will share, compose and enjoy music with their peer.
Aims
To develop their musical sense and compositional technique through performing and listening activities, so as to arouse their imaginative and creativity.

To arouse students' interest and pleasure in music, and to teach them to appreciate the music they have learnt.

To build up students' confidence and self-assurance. To teach students to express their emotions through performance, creativity and self-evaluation.

To foster students' sense of culture, to show them how to appreciate different cultures through their music.
Curriculum
This curriculum will provide various opportunities such as singing, movement, listening, playing musical instruments and enjoying verbally and visually expressed musical themes, as ways for students to explore sound. Traditional children songs, folk songs, classical songs and music from different cultures, styles and periods of time will also be used.
Subject Highlights
Games is a crucial part of children's life, and their music journey should take place in a children's orientated and children-led environment, guided by their teacher. Students learn music theory through different activities, discussions and cooperation tasks. They used to listen and perform first, followed by reading the scores and composing melody. There are orchestral instrument introduction for the junior students, and they can learn different percussion instruments, djembe, recorder, handchimes and computer music in different year level.
Recent Development
Reinforce positive value in music, in order to help them develop their mental health.

By cross-curriculum reading, allow students to have a better understanding of famous musicians and music knowledge.

To encourage students compose music by using e-platform.

Merging STEM elements in music, like making instruments.

To provide students with a more thorough learning experience by collaborating with other subjects.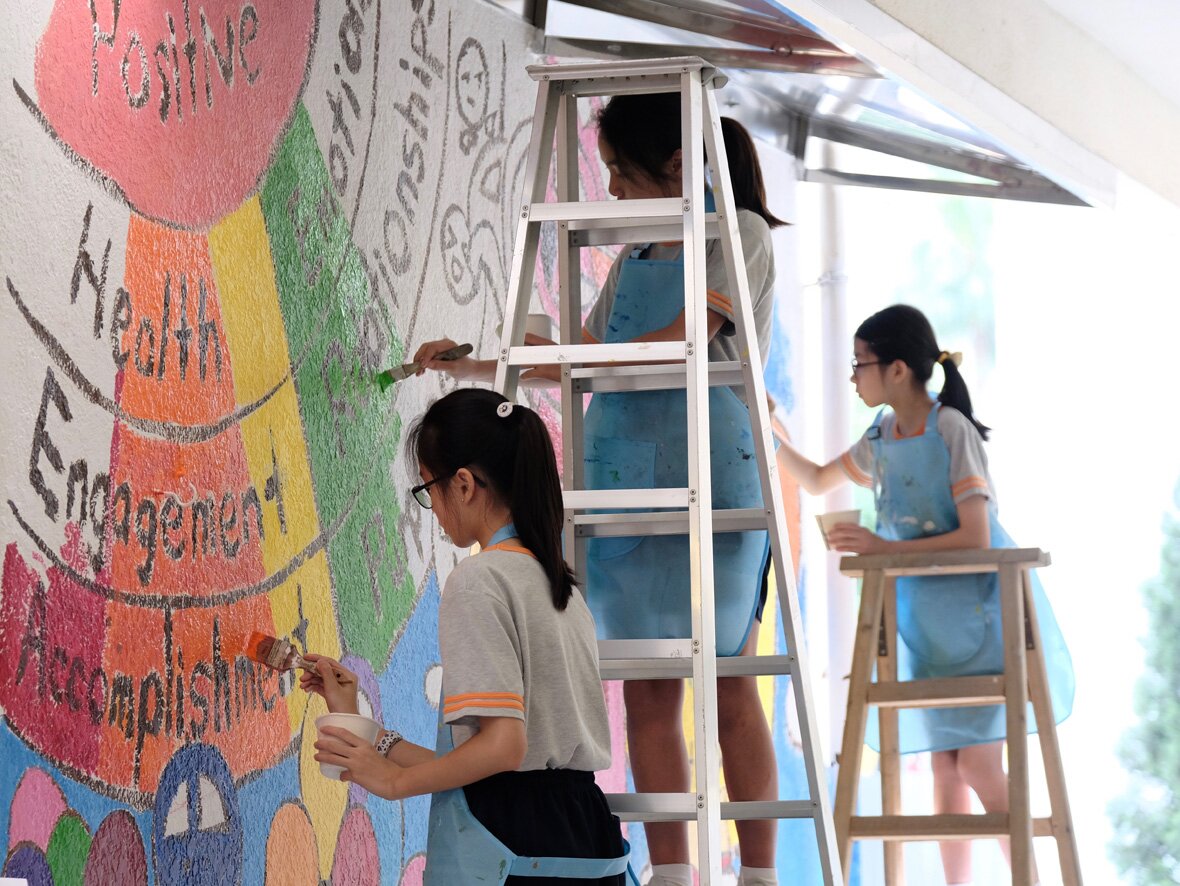 Visual Arts
Introduction
To give students' delight, enjoyment and satisfaction through various visual artistic activities.
Aims
To develop students' creativity and critical thinking, to foster their sense of beauty and their care for cultures, and enhance their effective communication skills.

To nurture their visual arts skills, knowledge and positive values and attitudes.

To help students own visual arts as their life-long interest.

To explore the integration of visual arts with dance, drama, music and multi-media technology.
Curriculum
To explore students' visual artistic intelligence by facilitating diverse activities.
Curriculum is designed to fulfill school's requirement with Education Bureau's Key Learning Area Curriculum Guide as blueprint.

Challenging tasks will be accomplished in groups

Different year levels will study different visual artistic elements and compositions, and develop their ability to appreciate visual artistic work.
Latest Development
To provide students with a more thorough learning experience by collaborating with other subjects.

To enhance the project "Humble abode" by applying STEM technology when working on the scale and texture of the model, try to solve social issues through creative thinking.

To encourage peer evaluation by offering online platforms.

By cross-curriculum reading, allow students to have a better understanding of famous artists and art genres.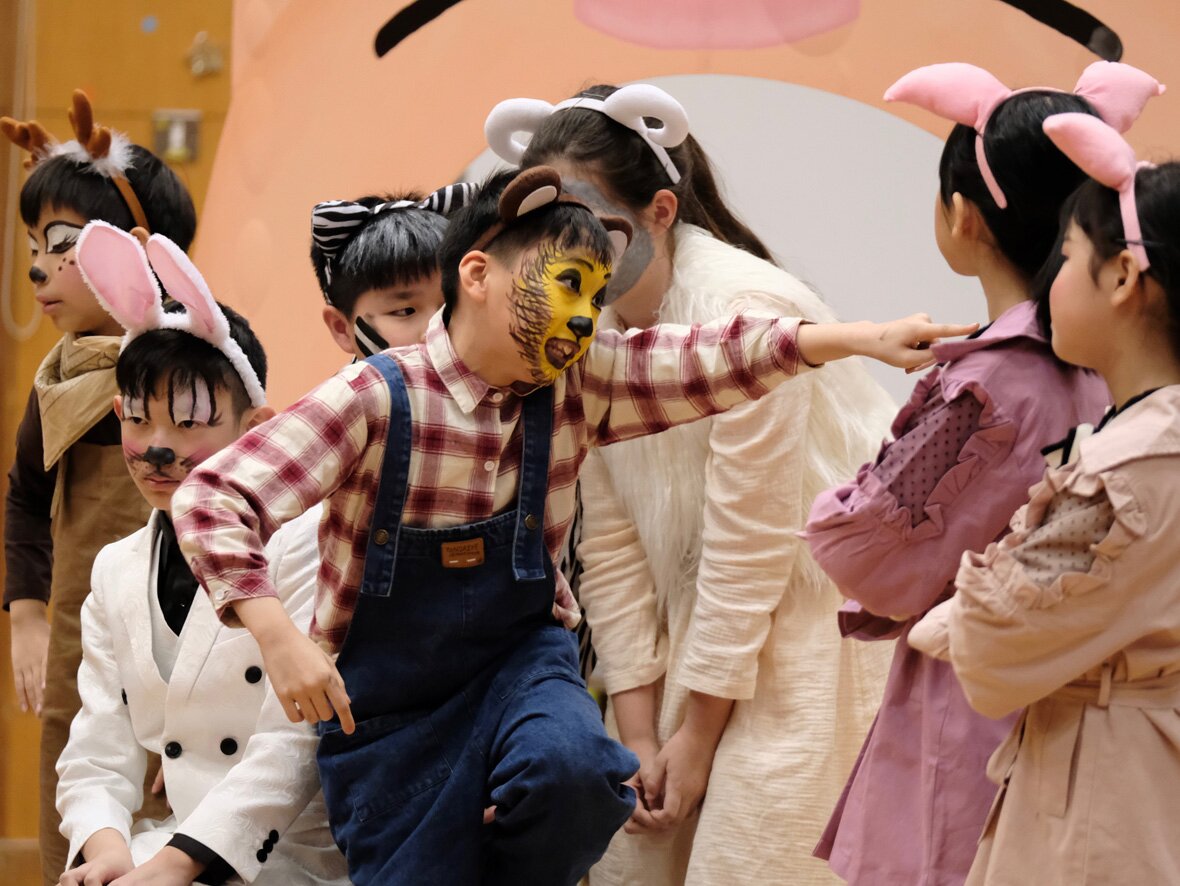 Drama Module
Drama is a compulsory module for P1 to P6 students. Through a variety of interesting games and excises, students can systematically enter the wonderous world of drama. In Key Stage 1, students explore the possibilities of their body and voice to create and express by imagination. They also study elements Who, Where and What through improvisation. In Key Stage 2, students further practise the control of their body and examine ways of non-verbal communication. They also learn basic staging techniques in group works. Drama creativity and appreciation skills are also in focus to equip them for high school drama curriculum.
Latest Development
In co-operation with Chinese Department, drama elements will be brought into Chinese lessons. In P4, students are going to learn Chinese Idioms through drama, and in P5, students will study "The Romance of Three Kingdoms" through drama, which can help to arouse their interest in Chinese history.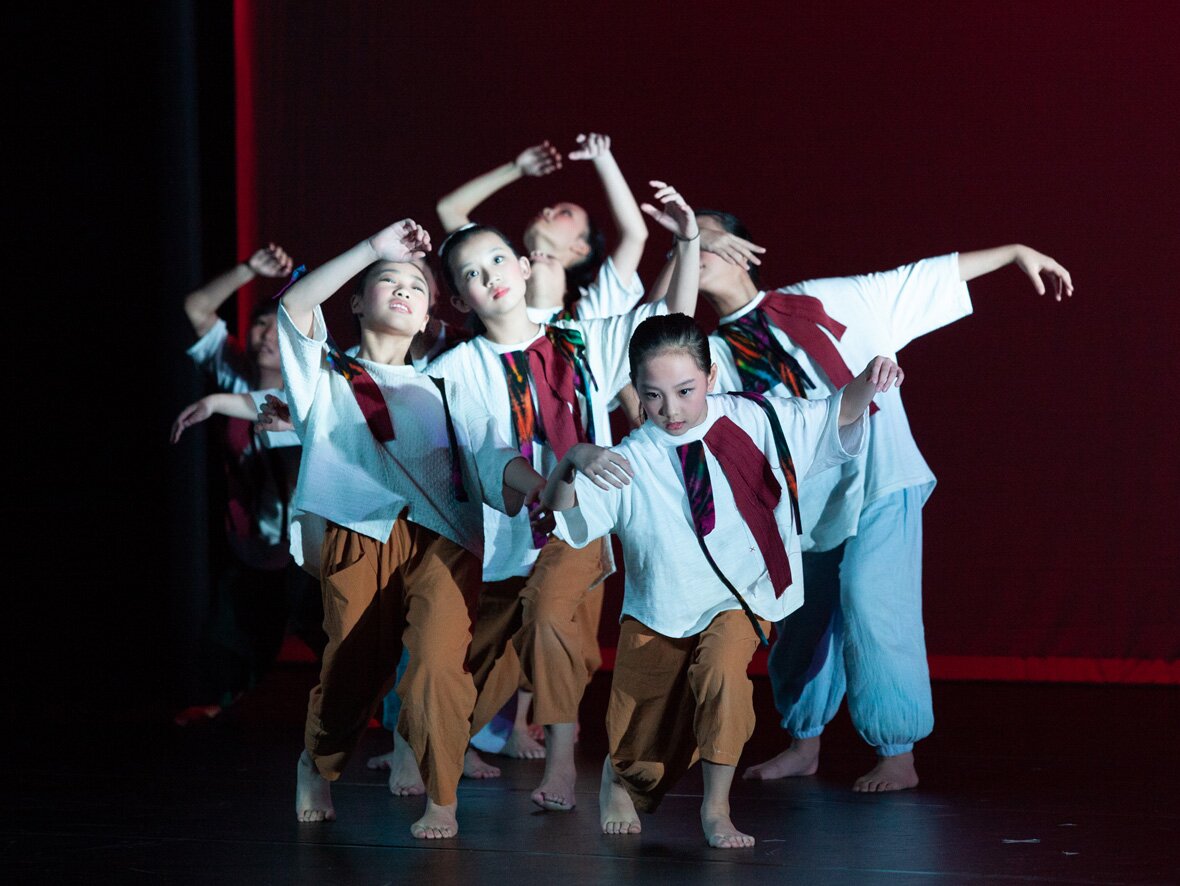 Dance Module
Dance is a compulsory module for P1- P6 students. Our Curriculum is based on Laban Movement Analysis in Modern Educational Dance, designed according to its 5 major elements: Space, Body, Action, Time and Dynamic, and Relationship. Through interesting and alive activities, enhance students' imagination and expression of thoughts and feelings, and strengthen their body co-ordination, flexibility and muscle quality. In Key Stage 1, students learn basic modern dance techniques. In Key Stage 2, students start to create their own dance piece and present their work at school. Also, they learn how to appreciate a dance piece and be a good audience.
Our dance curriculum is highly appreciated, as Hong Kong Academy of Performing Arts send students to observe our dance lessons, and City Contemporary Dance Company seek professional advice from our dance teachers for their education development.
Latest Development
Chinese dance elements have been added into our dance curriculum to enhance students' understanding of Chinese dance.