eLearning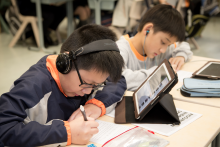 Knowledge, Skills and Attitudes
The information and communications technology curriculum covers a wide range of areas, but always aim at knowledge, skills, values and attitudes. To help students to understand and apply information technology effectively; to cultivate correct values and attitudes in the use of information technology; to enhance students' effectiveness in other learning experiences and challenges in daily life, are the objectives of the ICT curriculum.
Prepare for the Future
To develop students lifelong learning skills, the curriculum will be updated on a timely basis in light of the rapid development of information technology, such as online word processing and collaborative platform, which could help students to prepare for the future.
Fostering Creativity
There are a number of multimedia production modules, including animation, video editing, 3D modeling and Coding, which awaken students' creativity.
Beyond the Curriculum
Students can also participate in related Extended Learning Activities (ELA), which complement the I.C.T. curriculum. ELA such as 'game maker' enhance logical thinking and the ability of programming. In addition, ELA will also provide opportunities for other learning experiences. For example, although there is video editing module in the curriculum, the focus is on post-production tasks. Therefore, ELA such as 'CampusTV' provides the chance to experience script writing, lighting, sound recording, etc.