eLearning
The development of e-learning at our school has two main objectives:
To support and optimize daily learning and teaching with current information technology
To equip students to meet future technological needs
Our focus is on strengthening the following 3 concepts:
Individualized - to make learning and teaching more able to cater for the individual needs of students
Interactive - to create more opportunities for teacher-student and student-student interactions during the learning process
Independent - to makes it easier for students to manage and master their own learning process, thereby gradually establishing the ability to learn independently
Current development:
Through the adjustment of teachers' teaching methods and the improvement of the school's software and hardware, we are reinforcing our ability to cater to students' learning differences and needs, the interaction and communication between teachers and students, and the effectiveness of learning and teaching.
In the long run, with the paradigm shift of teacher teaching and the assistance of the learning management platform, students can establish time management, learning process management and knowledge management skills and habits in their studies, and equip themselves to gradually become an active self-learner.
With the implementation of e-learning, students will also learn the values ​​and attitudes of the appropriate use of technology, and build the information literacy that digital citizens of the 21st century should have.
Hardware support:
The school WiFi covers all the classrooms and a mobile device management system (MDM) has been setup.
In recent years, we have also upgraded the main network infrastructure and increased the broadband bandwidth with the service provider, which is enough to cope with the daily classroom operation of more than 100 iPads.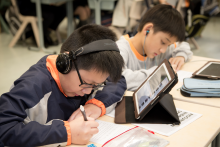 Teacher support with professional development workshops:
Teachers take the initiative to participate in e-learning sharing sessions or workshops outside the school. There are sessions for colleagues to share the recent development trends in e-learning or the successful implementation of new technology in subject-based learning, so as to promote the professional growth of teachers in e-learning.
Whenever the e-learning task group has a specific development plan, it will provide enough practical workshops so that teachers can successfully master the use of specific e-learning tools to assist their teaching.
Student support with video demonstration:
Whenever students have to use specific iPad apps or online platforms to complete e-learning tasks, teachers provide videos or guidelines to demonstrate how to use them.