Time & Arrangements
Arrangements for Coming to School
School starts at 7:50a.m.
with the accompaniment of a family member; or
use the school bus service; or
on their own (Parents should consider whether or not your child is mature enough to travel to school alone)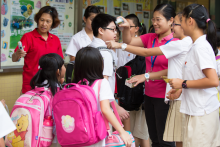 The school bus service provider is decided after a series of discussions between the Parent-Teacher Association and parents. We hereby announce that our School is only responsible for some of the liaisons between this school bus company and the students who take the school bus. We do not own or operate this company. Therefore, we are not responsible for any problems regarding this company's operation, including any compensational problems due to accidents and any legal responsibilities.
The school bus service provider in School Year 2023-2024 is:
Jackson Coach Hire Service Ltd.
Website: https://jacksonbus.com/sch/hkugaps/
Arrangements for Leaving School
From Mondays to Thursdays, classes end at 3:15p.m. On Fridays, classes end at 2:25p.m.
For the safety of the students, parents must show the Parents' Card when they pick up their child.
For those students go home on his / her own, the Card for Going Home Alone issued by the School must be presented before leaving.