Reading to Learn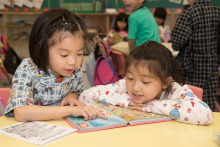 In order to encourage the love of reading in our students so they become life-long readers, the RPC provides a diverse range of activities to promote reading by our students. Parental support is pivotal to the success of these activities.
Book Swop
Students donate books they have read and in return they can redeem other titles. In this way, they are giving their old favourite books a new lease of life as well as acquiring new reading materials.
Battle of the Books (Phases 1 and 2)
Ten titles are selected in each phase by Chinese, English, General Studies teachers. Students are asked to read them and to participate in a competition to test their knowledge of the recommended texts.
The Reading Fortnight
Reading activities such as author visits, Pajamas Reading Day, Character Dress-up Day, Reader's Theatre performances, activities in the Library, movies in English Land and treasure hunts will take place.
Storytelling @ Lunch Recess
Students are encouraged to sign up and share their favourite stories with their school-mates through regular lunch recess storytelling sessions.
D.E.A.R. and Classroom Reading Corners
Reading corners are set up in each classroom and Chinese and English books are placed for students' leisure reading. Books donated by parents or placed in the classroom by students for sharing are welcome.
D.E.A.R. Calendar (P.1-3)
Students are required to read on a daily basis. The calendar contains a variety of activities which promote reader-text interactions.
Class Reading Lessons
During the Morning Reading lessons, all class teachers and students read books together in the classroom.
Inter-Class Reading Competition
Starting from October, parents are encouraged to enter the reading records of your child in the school Intranet during the first week of next month. (Please refer to school circular issued at the beginning of the school year for details of the method of recording.) Certificates will be issued to the top three students of each class who can meet the requirements and borrow the largest number of books.
Newspaper and Book Order
In order to encourage students to read different kinds of books, the School Library promotes wholesome quality newspapers and magazines, such as Ming Pao as well as the Scholastic Book Club's programme as it offers an enormous range of books throughout the year.
Book Fair and Exhibition
The Book Fairs are often arranged on the Student-led Conference Days, and suitable book suppliers are invited to exhibit various Chinese and English story books, magazines as well as educational software.