Student Development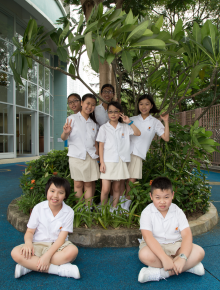 Student Development - "Every student is valuable"
Life education and students' character development are highly emphasized by our School. We hope, through education, to help our students achieve all-round development, develop positive values and attitudes, as well as foster in them a sense of responsibility to others and our society.
The Personal and Social Development and Guidance (PSDG) Committee oversees the developmental issues of our students. It comprises three sub-committees, namely "Life Education", "Discipline and Guidance" and "Support for SEN".

Overview of PSDG Committee
Aim

To help students develop a positive outlook on life.

Objectives

Life Values and Attitudes, to help students:

develop self direction and meaningful life
cultivate positive values (respect, responsibility, love and care)

Living Skills, to enable students to:

share and consider the needs of others
develop social skills
cultivate healthy habits

Moral Judgment, to enable students to:

distinguish right from wrong.

Guidance Approaches

Teachers as role models
Focus on preventive and developmental rather than remedial programmes
Whole school approach
Partnership with parents and community

Implementation Model