The Campus
The school campus covers an area of 4560㎡ and consists of two teaching buildings. One of which has 26 classrooms and 13 special rooms, and the other has 3 special rooms. All classrooms and special rooms are equipped with air-conditioning and soundproofing equipment. In addition, the whole school is equipped with wireless network systems and IT education facilities to cope with diversified teaching.
There are school office, Principal's room and conference room on the ground floor to handle school administrative work. Outdoor venues include basketball courts, running tracks, open-air and covered playgrounds, allowing students to engage in sports activities and giving them opportunities to show their talents. The school also sets up a Parent Resource Centre to provide parents with information on parenting and education. There are different special rooms on the first floor and above to support the school's implementation of whole-person education, including dance studios, computer rooms, general studies laboratories, visual arts rooms, music rooms, etc. The auditoriums on the fourth and fifth floors are spacious and can be used for large-scale lectures, student performances, teacher development and parent activities. The teachers' room is located on the seventh floor and provides a well-equipped space for teachers to prepare high-quality learning and teaching activities in a comfortable environment. Solar energy panels are installed on the roof of the building to help reduce carbon for the Earth.
In order to facilitate the development direction of the school, the newly completed building has a STEM house and "InCube" on the ground floor, allowing students to develop their creativity and become little inventors. There is a Performance Hall on the first floor, which can be used for guest sharing, student drama, dance practice and teacher training workshops. On the third floor, there is a library with architectural features, allowing students to enjoy reading in a comfortable environment. The roof of the building is set as a rooftop garden "Musketeers Place". Under the guidance of the teacher, students can experience the joy of planting.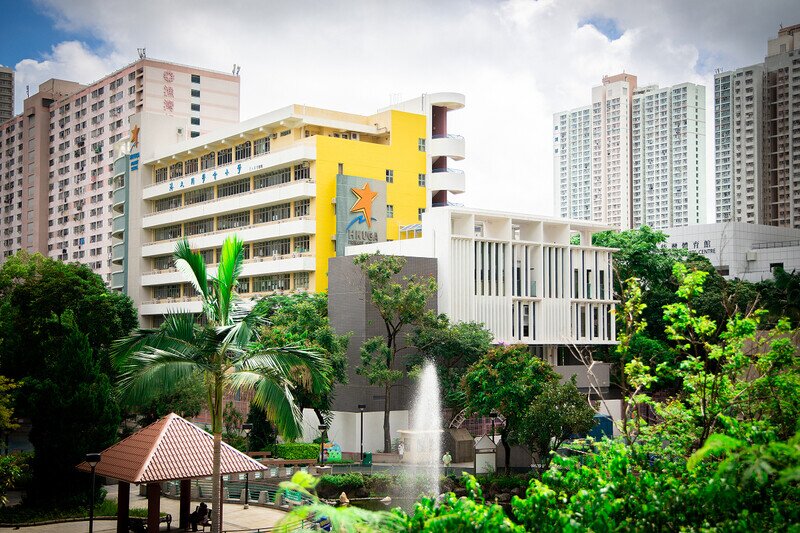 HKUGA Primary School
Tong Siu Building
Playground
Covered Playground
Short-Run Track
Flag Raising Ceremony Facility
Joyful Steps
Eliza Fok Performance Plaza
Hui Wing Mau IN CUBE
STEM House
Conference Room
1/F Multi-Function Area
Englishland

Wong Chan Sau Wai Memorial

Dance Room

Calvin Chan Smart Terrace

Wendy Poon Performance Hall

(1/F mini-Hall)

Vivien Chow Memorial

General Studies Room

Multi-media Learning Centre
Computer Assisted Learning Room

Mrs Fung Ng Yip Shing Memorial

Music Room

Visual Arts Room
Mr and Mrs Edward Wong Library
4/F School Hall

Musketeers Place

(Rooftop Garden)