Principal's Message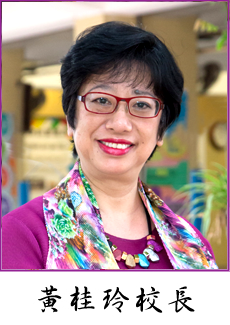 With the start of the 2019-2020 school year, HKUGA Primary School has entered its eighteenth school year. This school year is also the beginning of a new three-year plan for the school. In our plan, our school will continue to maintain the vision of creating a school which provides quality education for our students. While it is important for our students to enjoy learning, it is our aim they will become responsible learners who take the initiative with their own learning, and at the same time, we will continue to deepen the philosophy of "Positive Education" which was the school's key development focus of 2016-2019.
The following two items will be our three-year development goals for 2019-2022:
(1) Implement whole school approach to foster wellbeing through Positive Education.

(2) Promote Self-regulated learning to enhance effective learning and teaching.
In the past three years, the school has invested a lot of time and resources to promote Positive Education. Our school has adapted the Australian Geelong Grammar School model of "Learn It, Live it, Teach It, Embed It" to provide more than 90% of teachers, all the parents, and some school managers with relevant learning opportunities.
In the new school year, we plan to continue to provide comprehensive training courses for new or any other staff who have yet to be participate in these learning opportunities in the area of Positive Education. We will also arrange different workshops for teachers to further master the required skills and practice the good habits of Positive Education in their teaching and daily life.
In regards to the parents' education, lectures and practice-based workshops will be arranged for them. Our goal is to continue to develop the concept among parents, as well as train parents to become small leaders to help our school to further promote Positive Education. Additionally, the school will embed Positive Education into the campus through class building activities, Personal and Social Education, and assemblies.
In terms of learning and teaching, we understand that students in the 21st century are facing rapid technological and information changes, and they are also facing the impact of different values. Therefore, the school hopes to enhance self-regulated learning in various subjects to stimulate students' learning motivation, cultivate thinking skills as well as skills for setting goals, plans, practices, and reviews. Together with positive education, strengthening students' growth mindset can motivate students to embrace challenges, exert resilience, self-discipline, judgment, love of learning and other character strengths.
As a result of social events out of our control, the school was suspended and faced with challenges brought on by this emergency. Fortunately, the cooperation of all faculty members, the support of school managers, and the trust of each parent, meant the school was able to remain open during this time, so that HKUGA Primary School could continue to provide the children with a pleasant and safe learning environment.
With regards to the new wing expansion project, we are truly grateful for the effort of many experts and workers, which has allowed the project to rapidly move towards the completion stage. We believe that the positive relationships established as a result of mutual respect, care and tolerance provide the nourishment for happy and effective learning. In this way, all stakeholders of our school cherish the foundation which has been established and work together to build an even more radiant HKUGA Primary School from this day forward.
Email to the Principal: christinawong@hkugaps.edu.hk