Principal's Message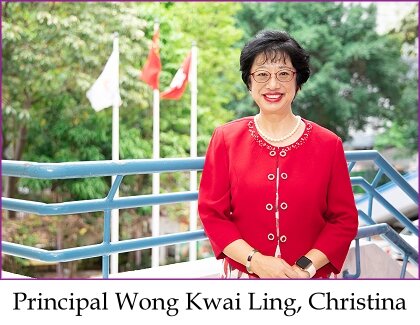 A Learning Community in the New Normal
Hong Kong and the rest of the world have been fighting off Covid for over a year as I pen this letter. People have been tackling unprecedented challenges in their living, medical systems and economies in every corner of the world. It is still vivid in my memories that back in February 2020, when schools were first suspended, we had to think on our feet to maintain students' normal learning. A core challenge was to build a robust support system, for the teaching team's learning of new technologies, the maintenance of Positive Relationships between teachers and students and, among students, their Positive Health as well as Positive Engagement.
After months of hard work, we have now managed to not only conduct lessons online, but also to cater for learner diversity, include Extended Learning Activities and class building activities in the timetable. In addition, we have conducted Morning Sharings, Assemblies, a Christmas talent show and party, school meetings and P.1 Admission interviews with over 5000 candidates, all online! Under the impact of the fluctuating figures, our school supervisor, the teaching team, students and parents are all learning hard to adapt to the switch between online lessons and face-to-face lessons. The school is also considering how to make best use of Blended Learning in the long term as the new normal mode.
The Parent-Teacher Association has always been the school's great partner in caring for the students' welfare and supporting the parents. During the pandemic, they set up a parent IT support group, held multiple Parent Academy seminars, Parent Book Club meetings as well as Positive Education seminars. As all of these were held online, parents enjoyed more flexibility in terms of time and venue. Hence, more parents were able to participate in person. Some could even take care of their children on the side or attend the meetings with their children. It is an inspiring example of how parent education can also benefit from new developments in the new normal.
Change, or facing changes, requires a departure from our comfort zone. It requires constant learning, practice, reflection and re-learning, which surely creates unsettling feelings, worries and doubts. During this daunting process, both children and adults need to be willing to learn, support each other and possess a Growth Mindset so as to move forward against adversities. As parents and teachers, let us all be a persevering learning community, take on challenges with a positive and optimistic attitude, and be models and companions of the children.

eMail: christinawong@hkugaps.edu.hk